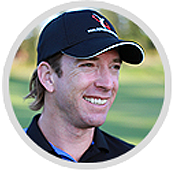 From the desk of
Chuck Quinton
Golf Touring Professional (Retired) RotarySwing Founder
Hello Fellow Golfer,
In this short letter, I'd love to share what used to be one of my most closely guarded secrets…
See, when I was playing professional golf for five years, I basically had one thing going for me:
I could strike the ball better than most of the pros.
Unfortunately, back then I was a lousy putter!
It wasn't until after I retired that I learned from Jack Nicklaus his putting secret (which is ironically similar to my swing secret)…but more on that in a minute…
The reason I was able to compete as a pro was because I perfected the golf swing using science.
And no matter your experience, whether you're just starting out or you're a golf pro…
...whether you're shooting in the 100s, 90s, 80s, or you're already a scratch golfer…
There really is one swing that rules them all.
And today, I'd like to show you that swing so you can:
Consistently hit the ball further and straighter
Quickly lower your scores and have more fun playing better golf
Avoid or eliminate the pain many golfers experience in their joints from doing it wrong
And not waste another minute on ineffective golf training...or waste another dollar on new clubs..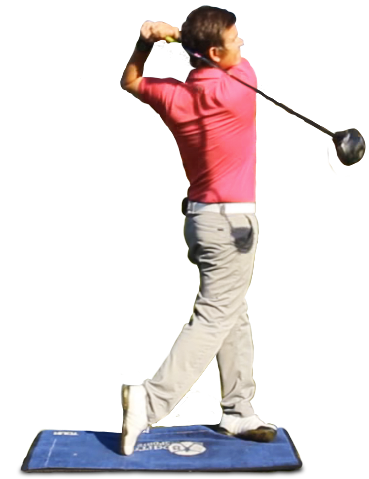 See, there are two fundamental traps most golfers fall into when trying to get better…
And no, I'm not talking about sand or water!
The first trap is...
Traditional golf instruction is broken
Let me ask you a question:
How much time have you spent with a golf instructor, only to see marginal results?
How much time have you spent practicing your drive...practicing your approach shots, practicing your putting, with limited improvement?
...or no improvement at all!
Most golf instruction follows the exact same playbook....
For example, a lot of people think a golf swing is a PUSH motion.
In reality, it's a PULL motion.
Which means if you golf right handed, your left hand is much more important than you might think...
At RotarySwing, we've thrown out the traditional playbook.
Our proprietary training was built from the ground up, backed by science and real results.
Now, the second big problem is the golf industry is…
Brand Name Golf Clubs
Don't Matter
Salesmen in the pro shop may believe new clubs will help you...
And they're often good at convincing you to believe it too!
But let's face it…
There have been very minor improvements to clubs over the last few decades.
And while most people think a new driver or a new set of clubs will make all the difference...
The truth is it doesn't matter much which driver you use...
...because if you have the same swing, you're going to get the same results.

At 56 I just played the best round of my life and hit a 300-yard drive. Thank you!
"I have been to John Jacobs golf school and my wife gave me a 10-lesson package at Golftec for my 50th...With that being said...Chuck's method of conveying the physics and principles of the golf swing are nothing short of revolutionary. I hated spending $20/ month on a subscription to your website access but now find it to be the best money I will spend all year. At 56 I just played the best round of my life and hit a 300-yard drive. Thank you!! - D. Dean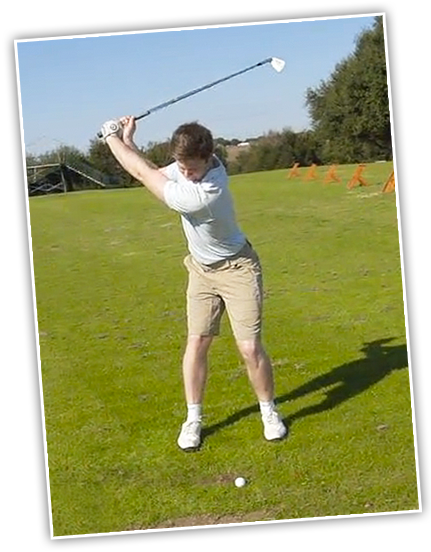 This is critical:
To improve your game, you must improve your swing
Hundreds of thousands of golfers have taken their game to the next level using RotarySwing's science-backed, superior approach to the golf swing.
And that's what I want to show you right now.
Whether you want to cure your slice, hit the ball farther, win more tournaments, or enjoy the game more by playing better, here's the first lesson...
No matter which club you use, the mechanics of the swing are exactly the same.
And the best part is anyone can do this…
Young or old, athletic or not, beginner or pro.
For example, take a look at this…
This 79-Year-Old Now Swings Like Tiger Woods!
Look at the improvement this 79 year old member made in just 30 minutes: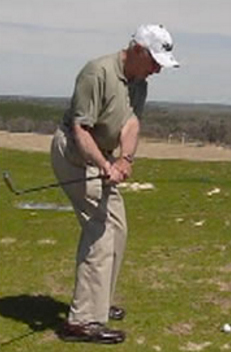 Before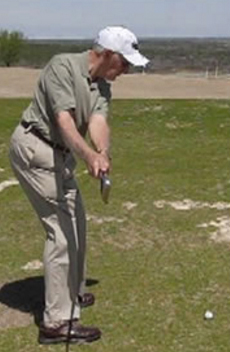 After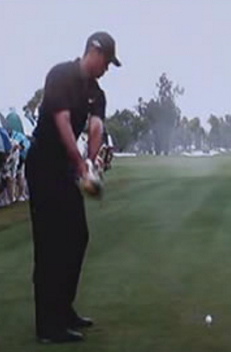 Tiger
Halfway back, there's no comparison. The image on the right is as good as Tiger Woods and absurdly better than where he started just 30minutes before!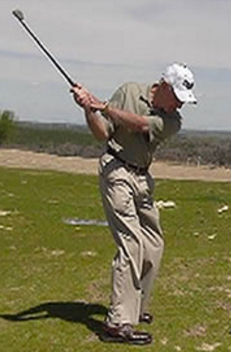 Before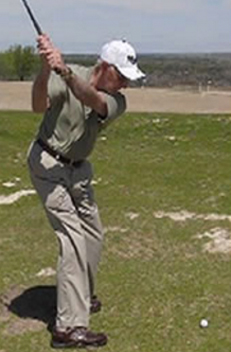 After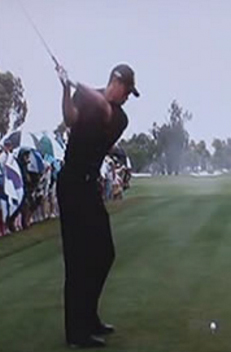 Tiger
When he gets to the top of his swing, there is no comparison. Put this guy on the super senior tour!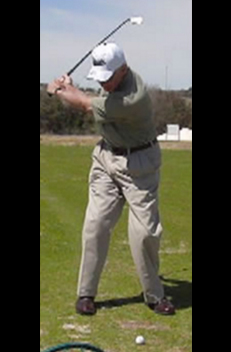 Before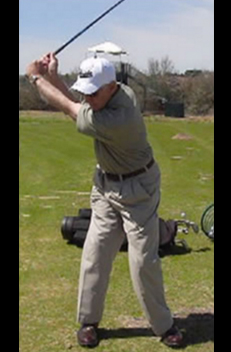 After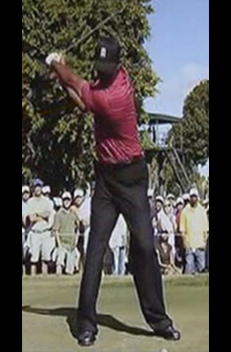 Tiger
All of this can happen FAST with RotarySwing because we teach our members to create new movement patterns the way the brain ACTUALLY LEARNS new movement patterns.
And the bottom line is when you make these modifications to your swing, you WILL play even better golf. Guaranteed!
The Cutting Edge Secret Of The Pros...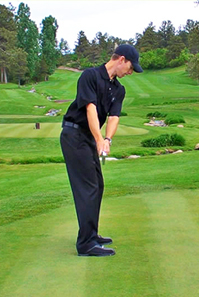 I'd like to start where conventional training gets it wrong, the pull motion vs. the push motion.
However, before we get started on your left hand, let me show you a proper stance:
One thing the golf industry tries to tell you is feet shoulder width apart...but frankly, that makes no sense at all.
When I hear this advice I always ask the person, "Where are your legs attached?" Your hips?
Oh, ok, then what does the width of your shoulders have to do with your stance width?"
RotarySwing uses the width of your pelvis to get you setup in a position that allows you to easily transfer your weight and make a powerful turn without your heading moving off the ball.
Now, there's a lot more to your stance than that, but right now I want jump ahead to your left hand.
...because when you get this right, it will change everything about your golf game.
Let me show you how the left hand works.
Most Coaches Teach That The Golf Swing Is A PUSH Motion. The Truth Is, It's A PULL Motion...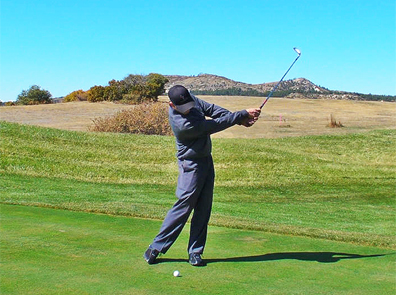 Tell me, have you ever seen a truck PUSH a trailer down a highway?
Have you ever wondered what would happen if you tried?
Well, that trailer would jackknife quickly. You've no doubt experienced this if you've ever tried backing a trailer into a tight spot!
The reason has to with what we here at RotarySwing call the force of movement.
And it's where the force of movement is coming from that determines the physics of the motion.
You see, when people try to push the club with their right side in the downswing, it's just like trying to push a trailer down a highway at 100 mph!
However, when you learn how to pull...the golf club, just like the trailer, begins to automatically align itself with the force of movement and amazing things begin to happen.
For example, it will be impossible for you to ever swing over the top again.
And your big slice will turn into a gentle draw.
Power will become effortless because you'll automatically create more lag than you ever imagined.
And swing plane - you'll never have to worry about it again.
There Is Nothing More Important To Your
Success In Golf Than Your Swing...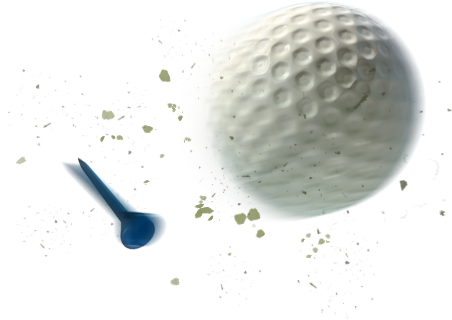 Now, there's obviously more to the perfect swing than your left hand.
Your legs.
Your hips.
Your shoulders.
Your right hand…
Inside RotarySwing, we show you exactly how to do every single step of the perfect swing.
And while it might seem complex, our members are consistently blown away when they discover…
Totally transformed my game
"I think your website and teaching philosophy is amazing. It's by far the best golf training site on the internet. Your shoulder turn video and your "pulling" theory have totally transformed my game.
After years of frustration and spending thousands on golf lessons I finally believe I am on my way to playing the best golf of my life. I can't thank you enough.
Thanks again and kind regards."
T. Singh
The Perfect Swing Is SIMPLE
It may seem ironic, but the perfect swing is actually simple.
It's the same every time...and it always works.
Frankly, the thing holding you back from the best swing of your life is years of bad advice, incorrect training, and methodology NOT backed by science.
And when you get rid of all of those things, and insert RotarySwing, you can quickly achieve incredible results.
For example, here's what a few of our members have to say:

"...the single best golf swing instructor in the industry."
Chuck Quinton is hands down the single best golf swing instructor in the industry. As a former athlete I consider Chuck to be one of the great teachers in not just golf; but all of the sports world. He is an elite class all his own. Like many of the great hitting instructors in baseball, the swing is a science for him. It is a biomechanically correct swing and involves indisputable truths. He has a passion for seeing his students improve and has helped me shave 12 strokes off my handicap in less than a year.
Ed Mylett, World Financial Group Chairman's Council Member and Former Professional Baseball Player

"...without a doubt the best golf instruction resource anywhere on the internet"
I can honestly say that RotarySwing has completely revolutionized the way I think about the golf swing...The website is without a doubt the best golf instruction resource anywhere on the internet.
-Sam Jarman, Golf Instructor in the UK

"I have a few lessons left at Golftec, and my coach there has wondered how I have improved so dramatically! Thank you Chuck for sharing your secret!"
I have taken many lessons over the last 20+ years from some of the supposed best schools. I am a physician, and Chuck's explanations and rationale for the movements required for an efficient and biomechanically safe swing make perfect sense. RST concept of pulling vs pushing is so simple, yet never mentioned by any other instructor.
I am very flexible, and I have long suffered from overswinging. I have been told just like Chuck mentioned to swing to 9 o'clock, and I have felt like the backswing was too short and the downswing too quick. After practicing the drills over one week, I am hitting the ball better than ever.
I have a few lessons left at Golftec, and my coach there has wondered how I have improved so dramatically! Thank you Chuck for sharing your secret!
All three of my boys have been taking lessons since they were 5. Now they are learning the RotarySwing Tour. Ipad compatible video access was a clincher!
-Gregory M. Kwok, M.D.
Hit The Ball Better Than Ever Before
With RotarySwing, you'll hit the ball further, with more control and consistency than ever before.
You'll overcome the myths, obstacles, and bad habits that make you lose your lag, get "stuck," slice, hit fat or thin shots, overswing, or anything else you struggle with…
We break down the mechanics of the swing in a way no one else has.
We make it EASY for you to integrate our approach into your golf game.
In short, you're just a few minutes away from discovering exactly how to make the best swing of your life, guaranteed.
I'M READY TO PLAY THE BEST GOLF OF MY LIFE
You'll get an exclusive bonus and consistently BOMB YOUR DRIVER!
Would you like to quickly add 20, 30, even 40 yards to your drive?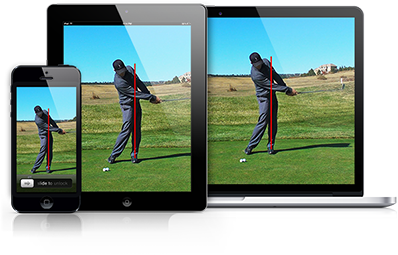 In our BOMB YOUR DRIVER training series, you'll get access to unfiltered video footage that will help you quickly add 20-40 yards to your drive by simply tweaking your setup and grip and understanding your driver better.
You'll avoid wasting $300 or $400+ on your next driver by understanding how to pick the right specs for you.
And you'll finally find out everything you need to know about spin, launch angle, club face roll, and more...
Plus, You'll Learn The Putting Secret I Learned From Jack Nicklaus In a Brand New Series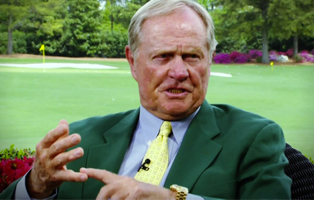 Jack Nicklaus
What Jack said was PROFOUND.
If the greatest golfer of all time would've changed this one thing about his putting, I decided I better listen up.
Once I gave it a try, and then started to understand the science behind it, I started rolling in putts left and right!
And when I started teaching this method to my students, the results were incredible.
Golfers who had the yips - CURED!
Golfers who couldn't get the ball to start on line - NO PROBLEM!
Golfers who couldn't hit the broadside of a barn from 3 feet - ROLLING LASER STRAIGHT PUTTS!
And here's the kicker.
Everything you'll find inside RotarySwing is...
Science-Backed. PRO Golfer Approved...
RotarySwing training is 100% based on biomechanics, anatomy, physics, and how the brain learns new movement patterns...so there's ZERO GUESSWORK.
It's also fully backed by an expert advisory panel of orthopedic surgeons and neurosurgeons, learning experts, and Ph. D. biomechanists from the US Olympics Committee to ensure everything you do is maximized for efficiency and safety.
Inside membership, you'll get access to a comprehensive and easy to search library of over 300 hours of video instruction that you can watch anywhere - including at the range on your phone.
It's like having professional golf instructors in your pocket…
And RotarySwing membership is 100% backed by our
Best Swing Of Your Life GuaranteeTM

The Best Swing Of Your Life Guarantee is very simple, and makes your membership 100% risk-free.
As a RotarySwing Member:
You will hit the ball further and straighter, with less effort and more control.
And you'll have more fun playing better golf.
Guaranteed.
Take 30 days to review your membership, and if you don't agree that RotarySwing will help you achieve all of those things, simply say the word and you'll receive a prompt and courteous, no-questions-asked refund.
Frankly, we know RotarySwing is the best golf training on the planet.
That's why we're willing to back up every membership with such a bold guarantee.
I'M READY TO PLAY THE BEST GOLF OF MY LIFE