Rotary Swing Tour Level 1 Certification
Rotary Swing Tour (RST) Certification is reserved for the very brightest and knowledgable instructors in the world. When students take lessons from RST Certified golf instructors, they are guaranteed to be working with the most extensively trained and tested golf instructors anywhere.
To become RST Certified is not easy. The tests are very hard and require a deep understanding of many disciplines typical golf isntructor training neglects.
It is required that all potential candidates progress through each level, starting with the Level 1 certification. Once Level 1 is passed, you will have attained knowledge and understanding about the golf swing that will far surpass anything available to anyone else in the golf instruction industry and will be well on your way to becoming one of the select few "Master Rotary Swing Instructors."
Level 1 Certification
PROCESS OVERVIEW
Purchase the RST Certification Manual - Level 1 (see below)
Study the Premium videos and Manual thoroughly
Purchase the Level 1 Exam (see below)
Complete the Level 1 Exam with a score of 90% or better
Sign up for your listing on the site (requirements and dues)
We will promote your instruction business online
PROCESS DETAILS
The first certification level is primarily focused on increasing the instructor's knowledge base so he or she can teach the fundamentals of the safest, most efficient swing based on current research while maximizing students' practice time and effecting real change. The information that must be learned just to pass Level 1 requires on average 100 hours of study on swing mechanics, physics, anatomy, biomechanics, physiology and more.
To prepare for the Level 1 exam, the RST Level 1 Certification Manual is required reading material. You can purchase the manual below. The videos on the RotarySwing.com website under RST are also required review material. The questions for the exam are taken from material both from the Certification Manual and the online videos. Attendance at a Rotary Swing Tour clinic will also greatly assist in learning the material but is not required. Once you feel you are ready, you can enroll to take the exam.
You may take the exam as many times as is required to pass but can only take the exam once per week if you fail on the prior attempt. To gain Level 1 Certified status requires that you complete an online test and score a minimum of 90%. The test has well over 100 multiple choice questions and must be completed in 90 minutes.
Once you are certified, a world of possibilities is opened up to you, including all of these benefits:
You are eligible to be listed on the official list of certified RST Instructors on RotarySwing.com. This allows the thousands of golfers who visit the site each day to find a qualified instructor like yourself to work with in their area and allows you to immediately start getting referrals for lessons.
Your certification is also eligible to be promoted in the following ways:

Email to our list of tens of thousands of golfers
Press release
Facebook page post
Golf Forum post
Press Release duplicated in our Golf Blog

You will also be eligible for our RST reseller program, allowing you to make money on any RST products and website memberships that you resell to your students either in person or via your website. This also provides you a discount on products sold in our store.
You will be able to use and purchase RST Certified branded materials (apparel, business cards, etc.) to promote your business both online and in person.
You will be able to interact with golfers from around the world on the forum and be listed as RST Certified. This gives you the opportunity to share your knowledge and interact with golfers online, exposing you to the opportunity to pick up more lessons.
You are eligible to submit video content, research and articles for the website to increase our students' and/or instructors' knowledge base and garner widespread awareness of your own business.
You will be sent a Rotary Swing Tour Level 1 Certificate.
Note: Many of the benefits above are only available to those who maintain their certification by meeting the monthly and annual Kaizen Requirements.
Enroll for Level 1 Exam - $99 - Click here for details.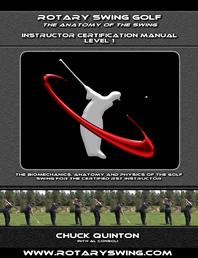 Order the Level 1 Certification Manual(click here to read 2 excerpts)
Find out what to expect by watching a two-part interview with the author, Chuck Quinton. Click the video thumbnails below to start the video:
Two ways to buy:
First, you can buy an ebook format. This will provide you instant access.
eBook Version Price - $19.95
Second, you can purchase a hard copy that can be shipped.
Hardcopy Price - $39.95