Broke 80 Wall
78 at Legacy Golf Club, Phoenix AZ
I have been through too many teachers to count and they all contradicted themselves on how to swing a golf club…ugh. I have been searching quite some time for something that makes sense and googled the best online golf training system and saw ...
79 at Bull Run Golf Club
I am currently a 13.6 index. I have gone as low as 10.4. This past Sunday I played with long time golf buddy (3 handicap) and went shot for shot with him until the last hole. While I have broken 80 in the past (last time was probably 3-4 years ago ...

79 at Leigh UK
Hi I play off 13 handicap but in recent years have struggled, I have been doing RST for six months. I always thought I was decent with my driver and 3 wood but poor with irons, Driver was about 220yds but my 7 iron was struggling to get past 130yd. ...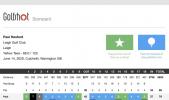 76 at Lipperswil (Switzerland)
Have been working on my swing using Chuck's concept for about 2 years (a lot of it in house). It took a while, but it's paying of. Shot 3 over yesterday. I am getting longer and longer, age 66 hdc 8. Would love to go to a Bootcamp - they're all just ...
75 at Desert Canyon Resort
All the stars aligned. Swing was in sync. Played blue tees which was 6766 yards. The putter failed me, was 1-6 for birdie putts inside 10 feet. Lipped three out, coulda shoulda woulda been 3-4 strokes lower. Soon, very soon. Shot a 77 day befor ...

78 at Timber Pointe
Played my third 18 hole round of the year this past Saturday and it was the best round of my life thus far. I had two previous rounds of 86 & 82 with a few 9 hole rounds thrown in the mix. Have been an RST member since last Spring and have been worki ...